PLEASE REFER TO OUR FACEBOOK PAGE FOR MORE RECENT EVENTS
Sunday 10th November 2019
Remembrance Parade - Bedworth
Photos courtesy of @Nature's Eyes Photo courtesy of Dean Wainwright
Photos courtesy of Levi Watts
An honour to play, as always, at the Remembrance Parade in Bedworth. We were blessed with good weather, and a very generous donation from a member of the public. We even won two prizes in the raffle at the Ex Servicemen's Club afterwards!
Saturday 2nd November 2019
Wychavon Festival of Brass
Sunday 6th October 2019
Bolsover Festival of Brass
An early start for Nicola and Cameron's first contest with the band.
Awaiting the results in the bar. The Clay brothers demonstrate their different Pool techniques.
Sunday 4th August 2019
Sanders Park, Bromsgrove
Sunday 21st July 2019
Droitwich Lido Park
Steve Guy performs his annual The 'bones' The bass section refueling post maintenance routine. performance.
Sunday 30th June 2019
Spencer Park, Coventry
We were delighted to be invited to play in Spencer Park on Sunday in a concert organised by the Park Committee, and funded by the Mayor of the West Midlands. The Committee have been working hard to put together community events, to make the park an enticing venue for locals to spend their free time, so watch out for future events.
Sunday 23rd June 2019
St Paul's Church Fete, Stockingford
Our annual appearance at the Church Fete is a highlight of our year. Well attended and welcoming, with a variety of stalls and food on offer, it's always a pleasure to play here.
Sunday 9th June 2019
Abbey Park, Kenilworth
With a lovely atmosphere and responsive audience, our Bands in the Park season started in style in Abbey Park...and not a drop of rain to spoil the afternoon.
Sunday 28th May 2019
Buxton Brass Band Festival
Friday 29th March 2019
The Abbey Theatre, Nuneaton
Photos courtesy of Adrian Ashley
Saturday 9th March 2019
Midlands Regional Championships
​Saturday 23rd February 2019
Oxford Winter Contest
Relaxing at the Black Prince in Woodstock after the exertions of the day.
Saturday 15th - Monday 24th December
Carolling at Sainsbury's Canley
Like father like son - Life President Dave Lilly and his son Steve shake a tin at Sainsbury's.
Friday 14th December 2019
Carol Concert St Paul's Church Stockingford
We say a big thank you and goodbye for now to Paul Sanders, who has been sitting in on rehearsals for a few months while working in the area, and helped out so brilliantly at both Bolsover and Wychavon.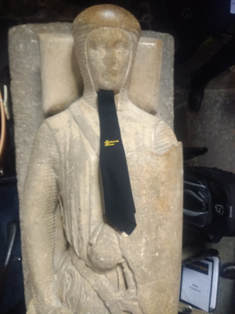 Roy shows Caroline some of his best moves Catching the match
Post mortem complete, and time to enjoy the excellent company!
The camaraderie of the band evident as we sample the delights on offer at The Marlborough School, before the contest.