---
6th September 2017
Thanks to Ryan for inviting Besson artist Lode Violet, who is in the UK for the British Open this weekend, to rehearsal.
Lode joined the front row for part of the rehearsal, and also acted as adjudicator, as the band prepare for both the Bolsover contest, and the annual concert at the Civic Hall on 13th October.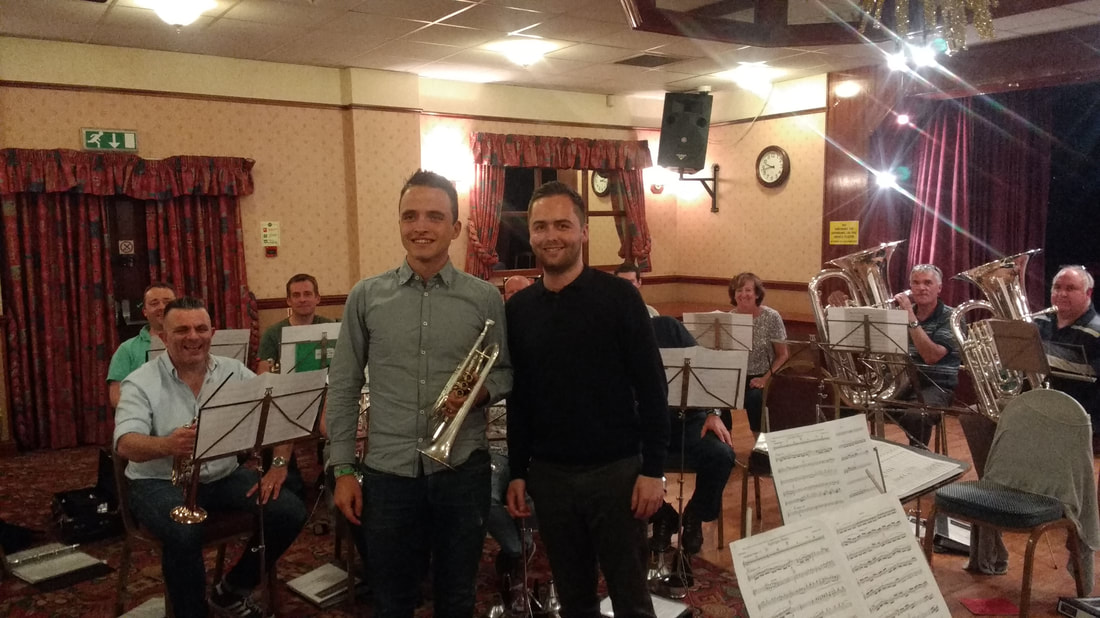 ---
July 2017
Droitwich Lido

---
July 2017
Pershore Festival of Brass

The Baptist Church

The Angel Inn

---
June 2017
Bedworth Town Centre

---
May 2017
Didn't we have a loverly time the day we went to Buxton.......

Bass section ready for action Final uniform check Newest member of the band - Helen
limbers up

MD Ryan poses - nice socks... Ladies refuel post performance Waiting for the results

Celebrating 2nd place. Congratulations to Ryan on his first band contest as an MD.

---
March 2017
Preparations for the Area, with Chris Houlding conducting.


---
Friday December 9th 2016
The annual Christmas Concert at St Pauls' Church, Stockingford.

---
Tuesday 6th December 2016
Accompanying the GridTones choir for the National Grid Christmas lunch in Warwick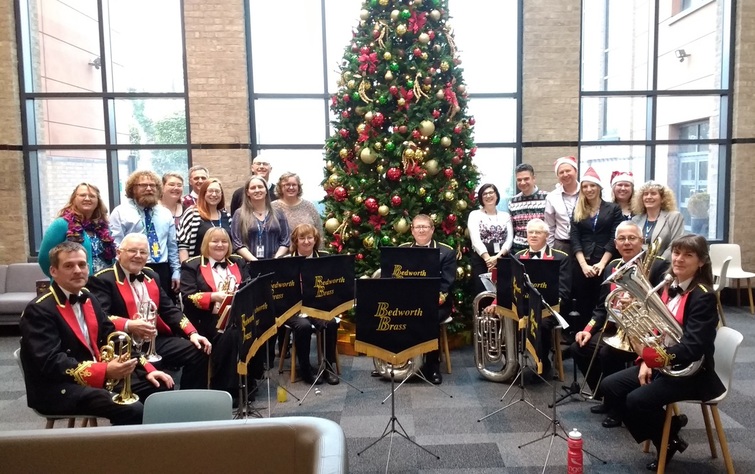 ---
Saturday 26th November 2016:
Playing in Bedworth Town Centre for the switching on of the Christmas.

---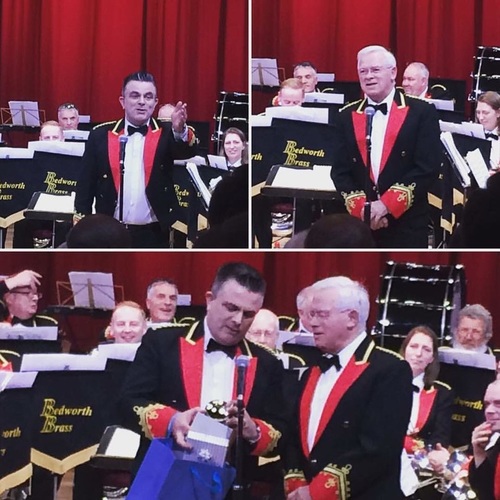 21st October 2016: Annual concert at the Civic Hall in Bedworth.

Steve Lilly makes a presentation to his father Dave on his retirement, after many years service as Band Chairman.







---
Wychavon contest

---
National Finals 2016
On 18th September, we travelled to Cheltenham to take part in the National Finals. As you can see, it was a tiring experience, as we were drawn last, but we ended up in a pub, so not all bad......Oh, and we came 7th.

---
Saturday 2nd July 2016 - Pershore Abbey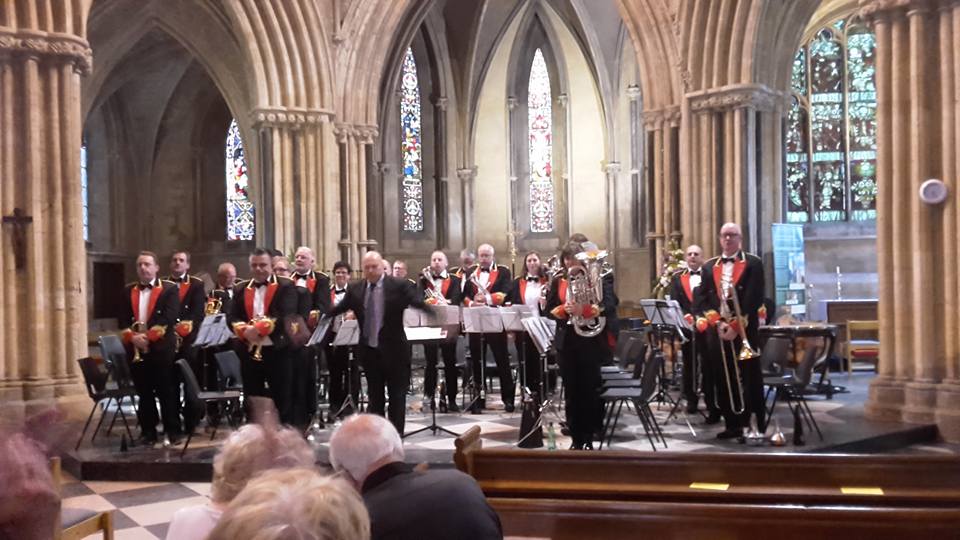 ---
Saturday 11th June 2016 - Street Party to celebrate the Queen's 90th Birthday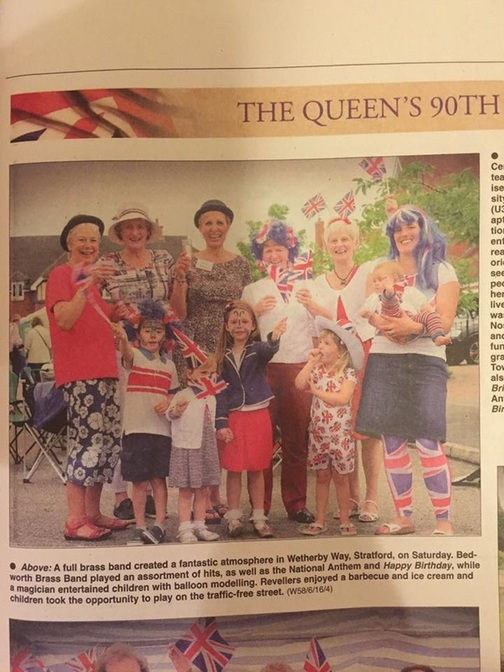 ---
Saturday 7th May 2016 - Wood Farm Brewery Contest

---
Friday 15th April 2016 - The Lions 30th annual 'Last Night of the Proms' Concert at the United Reformed Church in Nuneaton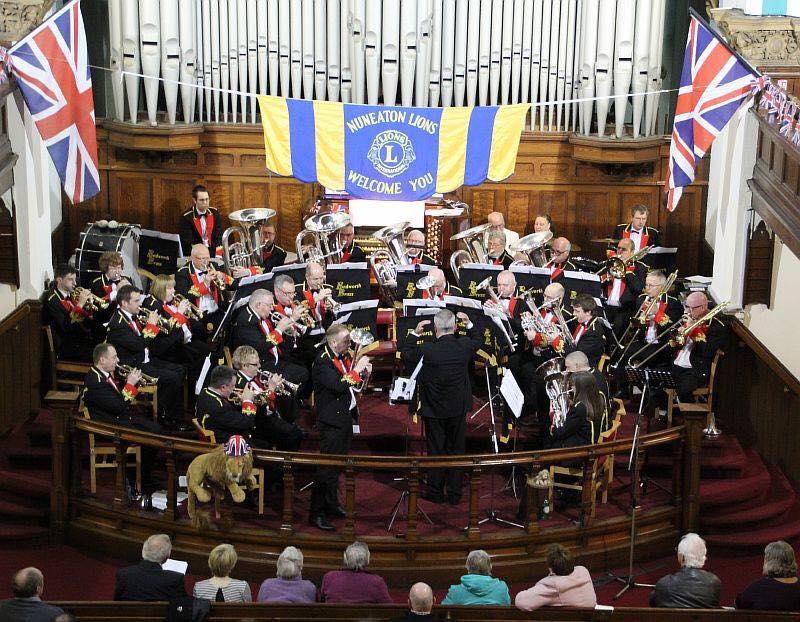 ---
Saturday 12th March 2016 - Midlands Regional Contest - Bedworth Civic Hall

---
Carolling 2015